13.2% of freelancers opt for private savings and pensions because they will rely on these benefits to supplement their public pension
One in two freelancers (54.9%) feels they do not know enough about the benefits that their contributions to Social Security generate for them.
Six out of 10 freelancers (62.5%) believe that the Spanish system is below the level of other European countries.
ATA and Fundación MAPFRE are highlighting the need to inform freelancers of their rights and duties with regard to social benefits and retirement savings.
Nearly one in three freelancers, 28.7%, would increase their Social Security contribution base if the benefits they were entitled to were improved, according to the "Freelance workers and social security" report conducted by the National Federation of Self-Employed Workers' Associations, ATA, for Fundación MAPFRE.
This report, the result of a survey of over 1800 freelance workers, seeks to analyze how familiar freelancers are with public and supplementary social welfare systems and to increase their financial and insurance knowledge so that they can make more informed decisions about their futures.
"One of Fundación MAPFRE's goals is to promote a greater financial and insurance culture ", indicates Julio Domingo, Fundación MAPFRE General Manager, "the more information the general public has, the better the decisions they will make about their future, and when it comes to supplementary savings and pensions, such decisions need to be taken 20 or 30 years before retirement age, therefore it is crucial that we are all well informed. This is why we work to disseminate this knowledge by supporting studies for specific groups, such as this ATA report, or through initiatives such as the Insurance and pensions for All website ".
The report reflects that 86% of freelancers contribute to the minimum contribution base, which is €944.40/month for 2019. Despite this figure, it is worth highlighting that 37.9% declared that they would be willing to change and to raise their contribution base, with 28% of them indicating that they would do so if the benefits currently offered to freelancers were to improve.
38.2% of freelancers indicated that a lack of income was the main reason for not increasing their contribution base and 13.2% prefer to invest their money in private plans because they believe they are better than the benefits they will receive from the public system.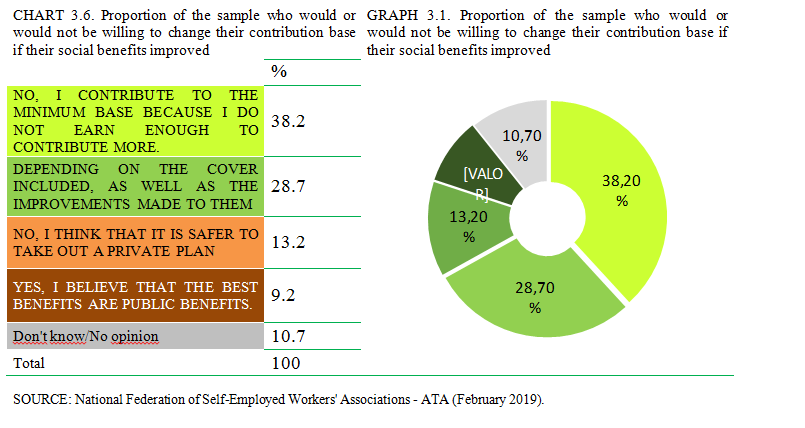 Faced with this situation, the report carried out by ATA has evaluated what freelancers know and think they know about the rights arising from their contributions. One in two freelancers, 54.9%, believes that they do not know enough about the benefits of their contributions to Social Security and only one in three freelancers, 33.7%, considers they know the basics. Only 3% of freelance workers believe that they have extensive knowledge of the benefits to which they are entitled as freelancers who contribute to Social Security.
For 2019, Social Security has set the minimum contribution base at €944.40/month and the maximum at €4,070.10/month.  From these two figures, freelancers can choose the amount which they wish to pay for (30% of the base chosen is what is contributed). This 30% is distributed in the following way:
28.30% – Common contingencies.
0.90% – Professional contingencies.
0.70% – Termination of activity.
0.10% – Vocational Training.
If we break down the various social benefits included in the contribution, health care, sick leave and pensions are the benefits with which freelancers are most familiar: two out of three freelancers, 67.2%, confirm that their contribution entitles them to health care, 58.5% to sick leave not arising from their professional activity and almost one in two, 47.1% knows they have a right to a pension.
With regard to professional contingencies, two out of three freelancers, 66.2%, know that this contribution entitles them to benefits in the event of a work accident.. However, one in four freelancers, 25.6%, mistakenly believes that professional contingencies also cover health care.
Freelancers are generally not aware of what benefits are covered by the different contingencies for which they are paying contributions: 20.8%, one in five freelancers, believes that the common contingencies entitles them to sick leave due to a work accident or professional illness, when in fact this benefit falls under the contributions for professional contingencies, something which only 19% of freelancers were contributing to until 1 January 2019, . Following the latest measures enacted, all freelancers are now contributing to professional contingencies.
"In short, the study shows that these self-employed workers are extremely uninformed about the benefits they are entitled to due to their contribution to Social Security and who sometimes turn to private protection systems which they declare themselves to be unfamiliar with", stated José Luis Perea, ATA general secretary.
Graphs 3.3 and 3.4 set out below, demonstrate what those who were surveyed actually know about the benefits which they are entitled to as a result of paying their Social Security contributions. The specific question asked was what are the benefits linked to each type of contingency. In the graphs correct answers are marked with a tick (✓).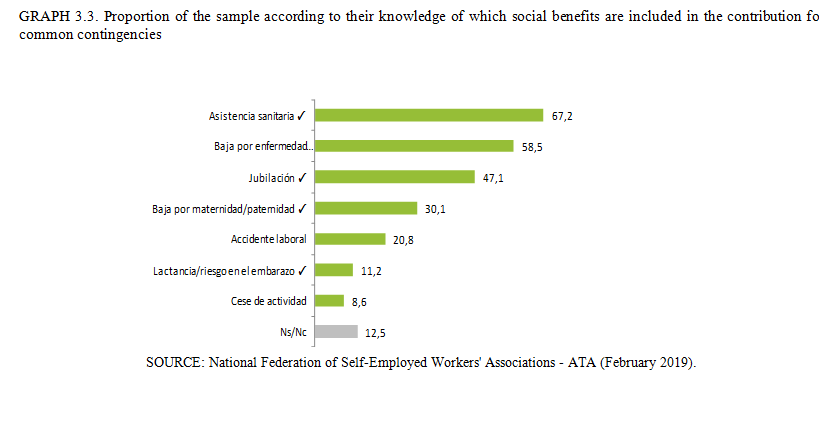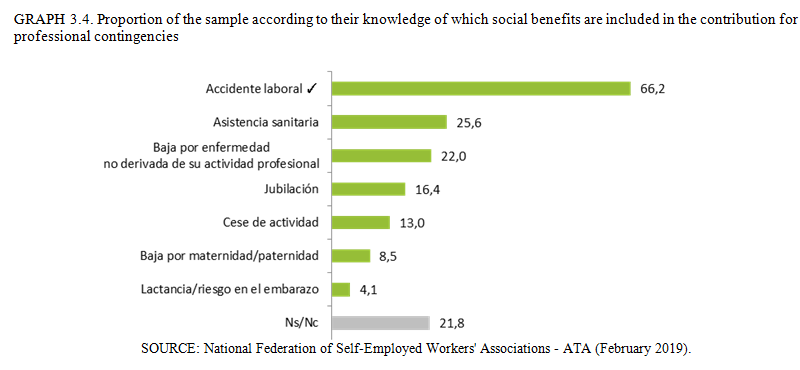 SIX OUT OF 10 FREELANCERS CANCEL THEIR SOCIAL SECURITY
The report also analyzes    freelancers' general assessment of Social Security and how they see it in comparison with the tax burden and the services in other European countries.
This feeling of poor information and a lack of awareness that freelancers have surrounding social welfare systems leads to a poor estimation of the benefits of both sectors. We can see how six out of ten freelancers, 59.8%, cancel their Social Security and only 12.1% give it a rating above very good.
In addition, an unequivocal 62.6% consider that the Spanish system is below or far below the level of other European countries. "The lack of information is very clear, in this sense, since Spain is at the cutting edge of equal rights for freelancers, given that they are the only State which has a Freelance Workers' Statute, a piece of legislation which is fundamental for the equal rights of workers", pointed out José Luis Perea.
This misinformation is particularly concerning, points out the report, given that many of the measures are quite recent and they should have been well-publicized so that they could at least have reached those affected by it.
In conclusion, both organizations emphasize the need to undertake an awareness-raising campaign among freelancers about the benefits of raising their contribution base, where feasible, and with a view to better informing them of the benefits to which they are entitled.