THE PENALTY POINTS DRIVING LICENSE, IMPROVEMENTS TO THE HIGHWAY NETWORK, VEHICLE TECHNOLOGY, THE INPUT OF VICTIMS' ASSOCIATIONS AND ROAD SAFETY EDUCATION ARE ALL FACTORS IN THIS SUCCESS STORY
More than 50 testimonies from present and former Director Generals for Traffic, European experts, researchers and victims' associations explain the keys to these improvements in road safety in Spain.
Fundación MAPFRE presents 'From Infinity to Zero: this is how we did it', the largest-ever retrospective of road safety in Spain, edited by Pere Navarro (DGT) and Jesús Monclús (Fundación MAPFRE).
Minister of the Interior: "The Spanish success story is the result of the hard work of many people, and this is probably the key to the future".
Pere Navarro: "The key factor was to have a State policy that took precedence over political debate, and the fact that we put victims at the center of the road safety strategy".
Antonio Huertas: "We have been involved in road safety for 25 years. It is a part of our commitment to society".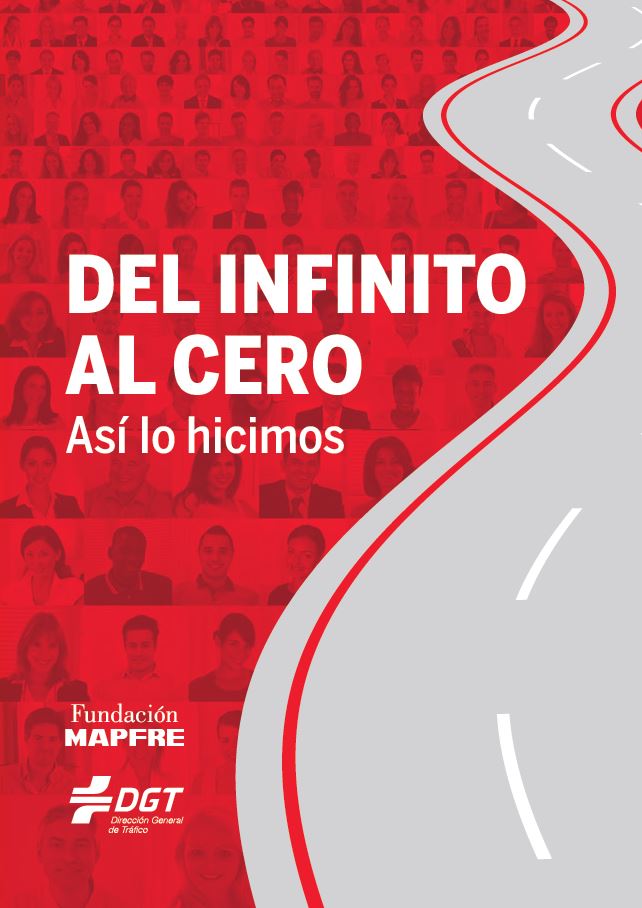 Spain has become an international benchmark when it comes to reducing traffic accidents. Between 1989 and 2019, the number of traffic fatalities fell from 9,344 to 1,755, representing a drop of 80%, a figure that in 2019 placed Spain as having the sixth lowest road fatality rate behind Sweden, Ireland, Malta, Denmark and Luxembourg. In 2020, Spain managed to climb to fourth position in this ranking.
The autonomous communities that have managed to reduce their traffic accident rates the most in the last three decades are Asturias (88%), Castilla La Mancha and Castilla y León (87%), Cantabria (84%), the Basque Country (83%) and Galicia (82%).
There are many keys to this success. We are talking about a model which, according to the Minister of the Interior, Fernando Grande-Marlaska, has been based on a "greater general awareness", with civil society as the true driver of change, and which has relied upon "the work of many people" from different sectors, and stakeholders who have collaborated in an integrated way and have made it possible for traffic accidents to be perceived as "intolerable".
Most experts believe that this reduction in road accidents and serious injuries is the result of the tremendous efforts made in different areas, such as education, awareness, regulatory controls and key legislative changes, such as the penalty points driving license and the reform of the Criminal Code, which took place in a context of significant improvements to highways and vehicles, spurred on by the European Union, the United Nations and the WHO. All these factors have made it possible to improve driving conditions and signage, the safety of vehicles and the transport of hazardous goods, the harmonization of the different types of driving licenses, and driver education, among other factors, in which victims' associations have played a crucial role by shining a spotlight on the issue and mobilizing individual, collective and political consciences, an essential element for action.
But there are also many other factors, such as the existence of a State policy that takes precedence over political debate and an institutional organization such as the Directorate General for Traffic (DGT) which has spearheaded these actions, as well as plans to improve and enlarge our highways; the high-speed railway system (AVE) that has eliminated numerous long-distance car journeys and hence many victims; improvements to the emergency health services; the availability of a well-trained, committed and stable body of public service professionals at both the municipal and national level; the importance of research, which is key to discovering, learning and improving the effectiveness of work on road safety; the traffic radar plan and the creation of a Public Prosecutor's office on road safety, as emphasized by Pere Navarro and Jesus Monclús, the Director General for Traffic and the Director of Accident Prevention and Road Safety at Fundación MAPFRE, respectively, and editors of the book 'From Infinity to Zero: this is how we did it'.
The two of them are presenting the book this afternoon in Madrid alongside Fernando Grande-Marlaska, Minister of the Interior, and Antonio Huertas, the CEO of MAPFRE and President of Fundación MAPFRE, the association that this month marks the twenty-fifth anniversary of its work to improve road safety; Jeanne Picard, the co-founder of STOP Accidents and the Ibero-American Federation of Victims' Associations against Road Violence (FICVI); and Yolanda Domenech, the director of P(A)T and a board member of the European Federation of Road Traffic Victims (FEVR).
The biggest retrospective in the history of road safety
The book records the living testimonies of more than 50 key players in road safety in Spain over the last three decades in what is probably the biggest retrospective in the history of road safety in Spain to date. It analyzes the factors that have made it possible for Spain to go from being at the bottom of the European road fatality table in the late 1980s to occupying one of the top positions thanks to its relatively low road accident rates today. The Spanish fatality-by-population rate in 2019 was 37 deaths per million inhabitants, very far from that of most Latin American countries, whose indicators range between 142 and 209 fatalities per million inhabitants.
The book also gives us the opportunity to recognize the work undertaken by public and private entities, to thank them for their efforts, to reflect on the experiences that have enabled us to reach this point, and to learn, to teach, and to gain momentum in moving forward towards Goal Zero. Notable contributors include several Director Generals for Traffic, such as Miguel María Muñoz, Gregorio Serrano and María Seguí; Juan José Matarí, the president of the Road Safety Committee of the Congress of Deputies; Bartolomé Vargas, the Prosecutor of the Road Safety Coordinating Chamber; Mar Cogollos, director of AESLEME; Álvaro Gómez, director of the National Road Safety Observatory; Mario Arnaldo, president of Automovilistas Europeos Asociados (AEA); researchers Francisco Aparicio and Blanca Arenas; businesspeople such as Jorge Cosmen, president of ALSA; Jordi Jane and Teófilo de Luis, former chairs of the Road Safety and Sustainable Mobility Committee of the Congress of Deputies; María Teresa Sanz, former Road Safety Administrator at the European Commission; doctors Isabel Casado and Salvador Espinosa, and international experts such as Matthew Baldwin, European Coordinator for Road Safety and Sustainable Mobility at the European Commission, among others.
Future challenges
The book highlights the fact that Spain needs to "revitalize" its road safety policy in the coming years to fight against the so-called "exhaustion" of certain road safety measures. It also notes that in order to combat road accident rates and the human distress they cause, it will be necessary to focus on vulnerable users such as pedestrians, cyclists, motorcyclists and scooter users, who accounted for 32% in 2001 and 53% in 2019 of all road fatalities.
The book also proposes promoting active and sustainable means of transport such as the bicycle; paying special attention to new mobility systems, such as shared vehicles; and promoting greater coordination in national, European and global mobility in line with the Sustainable Development Goals (SDG) which, according to most of the contributors, will help to halve the number of fatalities and serious injuries by 2030 and achieve Goal Zero in the shortest possible time.
More research, more technology, and more education
The book insists that to achieve this goal we already have the necessary knowledge and measures; all it takes is more leadership, more resources, and greater coordination in every area. In this respect, it highlights the role of research, which is essential for statistics to be compiled along with detailed reports, which can then be analyzed in real time by technical committees and allow immediate measures to be proposed to prevent the same incidents from recurring. It also emphasizes the need to make better use of traffic management technology, smart highways, advanced vehicle safety systems and connectivity, and the importance of insisting on road safety education in schools and improving drivers' awareness, with talks by the victims of road traffic accidents, and dealing effectively with law breakers and repeat offenders.
Some of the key players:
Fernando Grande-Marlaska, Minister of the Interior: "The strength of our road safety policy is based on four fundamental pillars: values education and continuous training of drivers; clear-cut and necessary regulations, and compliance with them; the Safe System, based on the acceptance of human error in order to forestall deaths and injuries; and the victims' associations, our most reliable guide, to whom we have given a voice".
Antonio Huertas, President of MAPFRE and Fundación MAPFRE: "We need to do more, and do it better, in the coming years before we can achieve our goal of zero serious injuries and fatalities, in cities by 2030 and in rural areas by 2050, as proposed by Fundación MAPFRE. This book represents the largest collective reflection to be published in recent years on this subject. We are part of the history of road safety in Spain, as well as in Latin America".
Pere Navarro, DGT: "The challenges of the future are, firstly, the safety of motorcyclists: every year there are more accidents and more fatalities involving motorcycles: secondly, pedestrians and cyclists, because there are more fatalities among vulnerable users than among the occupants of cars and vans; and thirdly, a firm commitment to connected vehicles, which will facilitate communications with other vehicles and the highway infrastructure and signifies a huge leap forward in road safety".
Jesus Monclús, Director of Accident Prevention and Road Safety at Fundación MAPFRE: "We are not willing to accept more than 1,700 fatalities and around 10,000 injuries per year from road accidents. This book has been written by people who have dedicated their work, their time and, in short, their lives to preventing other people from suffering the devastating consequences of unsafe roads. They are the real heroes".
Matthew Baldwin, European Coordinator for Road Safety and Sustainable Mobility at the European Commission: "Road safety remains one of the great unsolved global challenges – 1.35 million people die on the world's roads every year. One of the vital preconditions to continued road safety success is the determination to keep on improving, and Spain is demonstrating this with the use of measures such as setting a 30 km/h speed limit as standard in towns and cities. This progress doesn't happen by chance. It is the result of visionary leadership".
You can read and download the book free of charge at:
https://documentacion.fundacionmapfre.org/documentacion/publico/es/consulta/registro.do?id=175678